Breaking News – FOX Orders "The Cleaning Lady" to Series


[05/07/21 – 10:00 AM]
FOX Orders "The Cleaning Lady" to Series
Elodie Yung stars in the darkly aspirational character drama, based upon the original Argentine series.
---
[via press release from FOX]
FOX ORDERS "THE CLEANING LADY" TO SERIES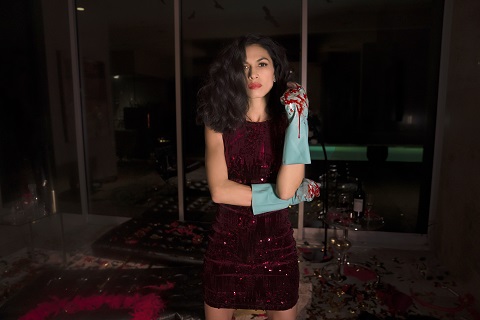 THE CLEANING LADY
· Studio: Warner Bros Television, FOX Entertainment
· Format: One-hour drama
· Order: Series order
· EP/W: Miranda Kwok (The 100, Spartacus: Blood and Sand)
· EP/Showrunner: Melissa Carter (Queen Sugar, DC's Stargirl)
· Pilot EP/Director: Michael Offer
· EP/NW: Shay Mitchell (Amore & Vita Productions, Inc.; acting credits: Dollface, Pretty Little Liars, You), Rose Marie Vega, Paola Suarez
· Based upon the original Argentine series
· Logline: THE CLEANING LADY is a darkly aspirational character drama about a whip-smart doctor who comes to the U.S. for a medical treatment to save her ailing son. But when the system fails and pushes her into hiding, she refuses to be beaten down and marginalized. Instead, she becomes a cleaning lady for the mob and starts playing the game by her own rules…
· Cast:

· Elodie Yung – Thony

· Adan Canto – Arman

· Martha Millan – Fiona

· Sebastien LaSalle & Valentino LaSalle – Luca (note: twins sharing role)






[05/11/21 – 12:30 PM]
Video: "P!nk: All I Know So Far" – Official Trailer – Prime Video
The film follows Pink on her Beautiful Trauma World Tour, as she balances being a performer with her role as a mother, wife, and boss.
[05/11/21 – 12:03 PM]
NBC Renews Beloved Daytime Drama "Days of Our Lives" for Two Additional Years
This renewal will take one of TV's most iconic series through its 57th and 58th seasons.
[05/11/21 – 12:01 PM]
Video: Apple TV+ Debuts Trailer for Groundbreaking Docuseries "1971: The Year That Music Changed Everything"
All eight episodes of this immersive exploration of the musicians and soundtracks that shaped the culture and politics of 1971 will premiere on Friday, May 21, exclusively on Apple TV+.
[05/11/21 – 12:00 PM]
Calling All Campers: "Bunk'd" Kicks Off Another Adventure-Packed Summer at Camp Kikiwaka with a Milestone 100th Episode on Disney Channel
The notable episode will air during a special summer kick-off week featuring a new installment of the series on each night of the week from Monday, May 31, through Friday, June 4.
[05/11/21 – 11:36 AM]
Academy Award-Nominated Actress Scarlett Johansson to Receive the "Generation Award" at the 2021 "MTV Movie & TV Awards"
In addition to the 2021 "Generation Award," Johansson is a six-time "MTV Movie & TV Awards" nominee, winning her first golden popcorn in 2013 for "Best Fight" for her role in "The Avengers."
[05/11/21 – 11:30 AM]
New Series Greenlit for AMC+ and AMC, "Moonhaven"
The series is focused on a utopian colony on the Moon that may hold the keys to preserving life on Earth, which has become increasingly perilous.
[05/11/21 – 11:05 AM]
CNN Films' "Dreamland: The Burning of Black Wall Street" Produced by The SpringHill Company Premieres Monday, May 31 on CNN
Directed by Salima Koroma, the documentary celebrates the Black cultural renaissance that existed in the Greenwood district of Tulsa, OK, and investigates the 100-year-old race massacre that left an indelible, though hidden stain on American history.
[05/11/21 – 11:04 AM]
FXX Orders Animated Comedy Series "Little Demon"
The half-hour series is created and written by Darcy Fowler, Seth Kirschner and Kieran Valla, and features Danny DeVito, Aubrey Plaza and Lucy DeVito among the voice talent.
[05/11/21 – 10:34 AM]
discovery+ Announces All-New Series Following an Elite Group of Fearless Highliners Who Are "Pushing the Line"
The series, streaming Saturday, June 5, on discovery+, follows some of the top highliners and the up-and-comers of the sport, who live together and push each other to take on the craziest places to set lines and break records.
[05/11/21 – 10:01 AM]
Kiefer Sutherland to Star in an Untitled Espionage Drama for Paramount+
Sutherland will executive produce alongside writer-directors John Requa and Glenn Ficarra, Charlie Gogolak, and Suzan Bymel.
[05/11/21 – 10:00 AM]
The CW Network Amps Up the Adventure by Ordering an All-New Reimagined Version of the Iconic "Legends of the Hidden Temple"
This supersized, adult version preserves many of the original Nickelodeon series' favorite elements.
[05/11/21 – 09:58 AM]
Monday's Broadcast Ratings: FOX Stays on Top with "9-1-1"
The network wins the evening in both total viewers and adults 18-49.
[05/11/21 – 09:17 AM]
Peacock Orders Limited Series "Unidentified with Demi Lovato"
The project is an unscripted series that follows Lovato and her skeptical best friend Matthew and her sister Dallas, as they attempt to help uncover the truth about the UFO phenomena.
[05/11/21 – 09:00 AM]
MTV Sets Return Date for "Jersey Shore Family Vacation" with the Epic Comeback of Nicole "Snooki" Polizzi
Following a wildly memorable first half of season four, everyone's favorite roommates return to take their iconic family vacation "Shore" bubble to The Poconos for the first time ever.
[05/11/21 – 08:30 AM]
"Alice's Wonderland Bakery," A Deliciously Fantastical Animated Series for Preschoolers, Slated to Debut in 2022
Slated to debut in 2022, the series centers on Alice, the great-granddaughter of the original heroine and a budding young baker at the enchanted Wonderland Bakery, where treats bring a new generation of characters together.