Early Dental Care Is Easy Dental Care
Start 'em young. The secret to skiing, classical piano and—it turns out—the dentist.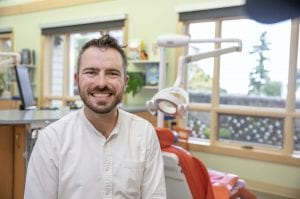 While it may seem counterintuitive to start bringing your kid to the dentist before their mouth is even all the way full of teeth, this, says Dr. Kenneth Sawyer, the dentist at Bellingham Pediatric Dentistry, is very important for a lifetime of healthy teeth.
"We often get the question: 'They [baby teeth] are just going to fall out, so why should we care?'" he says. "Starting kids, and more importantly, their parents, on a trajectory to good oral health really early on affects kids long term."
Healthy teeth can support healthy nutrition levels by allowing proper chewing. They can aid in speech development and help with proper development of children's permanent teeth by saving space for them. Not to mention seeing the dentist helps catch and prevent cavities, which can hurt children, and slow the developments listed above.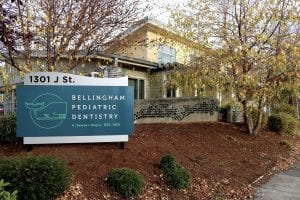 Most kids will get their first baby tooth between the ages of 6 months and 1 year old, but they don't lose their last baby tooth until between ages 12 and 14, on average. Each of those teeth is vulnerable to cavities and decay, and they can pass on those cavities to the adult teeth growing in around them. 
"A lot of the benefits are not only checking on the kids' teeth and other oral issues that might come up, but also really educating the parents on how to take care of those teeth, because babies don't come with an instruction manual," says Dr. Sawyer.
He hopes to be a resource for parents to help them understand when and how to brush their children's teeth and what kind of toothpaste to use, among other things.
For his youngest patients, a routine dental visit will involve talking to the parents and answering their questions as much as actually examining the child's teeth. 
After he answers any questions from the parents, he'll have the child sit on their parent's lap, facing the parent. Then, he has the parent set the child backwards onto his lap while holding their hands, so they're still facing their parent. He will then brush their teeth and count them, and then lie them down to do a full exam.
For kids who are younger than a year old, he says, they will often cry, but he is very efficient in his exams and as soon as they sit up, they clap and celebrate and encourage the child that everything is all right. He also offers each child a prize at the end, which helps too.
"It's about getting to know each other," he says. "I'm going to see this kid grow up and go off to college, so I'm really setting that basis to get to know them and establish a relationship with them."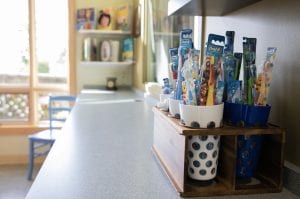 Dr. Sawyer is committed to lowering children's anxiety about going to the dentist, so they can grow up into adults who don't fear the dentist. For children who are truly terrified, he can work with that, he says. He once conducted a dental exam in the back of a parent's minivan, because that was as close to his office as the child would go.
Within a year, however, that child was in his office getting an x-ray.
In times when going to the doctor or leaving the house at all can be harder and scarier than normal, there are plenty of things parents can do from home to help their children maintain healthy smiles. Because the city of Bellingham and Whatcom County do not add fluoride to the water supply, Dr. Sawyer recommends fluoride supplements and brushing with fluoride toothpaste. 
Cavities feed on simple carbohydrates, so snacks like nuts, fresh fruit, meat and cheese are better than goldfish. 
Kids appreciate consistency, Dr. Sawyer says. If parents can establish a nightly tooth-brushing routine with their children at a young age, it will be much easier. Routines, he knows, have been knocked on their head this year due to the pandemic, but it will be easier and cheaper than having to make multiple dentist appointments.
"I would be a liar if I said I didn't have to chase and pin down my 3 year-old every once in a while to brush her teeth," he says with a laugh. "But we do it because we know it's good for her."
Early dental care is also a smart economic move. In a study from the journal Pediatrics, researchers showed children who had their first dental visit before age one had 40 percent lower dental costs in their first five years than children who did not.
Dr. Sawyer and his staff are always happy to answer any questions, and for families that do feel safe coming to the office, his team remains committed to very strict cleanliness and safety protocols.
"Bringing them in at age one," he says, "is going to help them at age 21 and beyond."
Sponsored