Man caught on camera breaking into Clayton County ATM
CLAYTON COUNTY, Ga. – Clayton County police are searching for a man caught on camera breaking into a College Park ATM early Sunday morning.
They say once he busted it open, he made off with all the cash inside. 
Investigators with the Clayton County Police Department said officers were sent to the 5400 block of West Fayetteville Road around 3:30 a.m. on July 25 after reports of an alarm.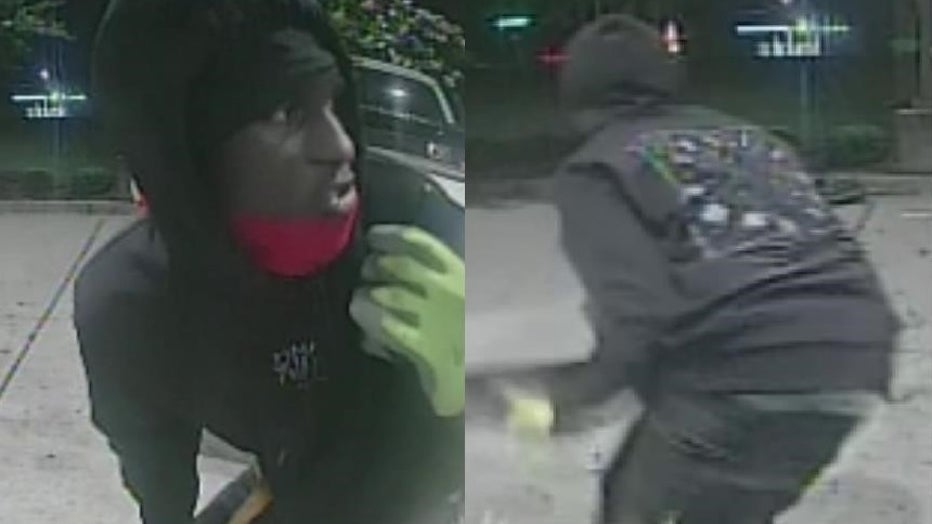 "When officers responded on the scene, they actually found that the ATM machine has been broken into," said Capt. Christopher Windley. 
Investigators discovered that the surveillance camera of the machine was able to take two photos of the male suspect. The camera captured the man wearing a black hoodie, a red mask, and neon yellow gloves. Police are also zeroing in on the distinct design on the back of the hoodie. 
Windley said it's not clear how the suspect managed to bust it open, but it looks like he somehow found a way to pry it open. 
"We're hoping that the citizens and anyone can identify the suspect and can give us leads in reference to his name and identity," Windley said. "We don't know exactly how exactly he got it open, but he pried it open."
Police said the bank did not tell them how much the man made off with. 
Anyone with information about the break-in or who can identify the suspect, the Clayton County Police Department is asking to call them at 770-473-3933. 
The bank appeared to have already replaced the busted machine by Friday morning. 
WATCH: FOX 5 Atlanta live news coverage
_____
Sign up for FOX 5 email alerts
Download the FOX 5 Atlanta app for breaking news and weather alerts.