The Right Place | The Jalopy Journal The Jalopy Journal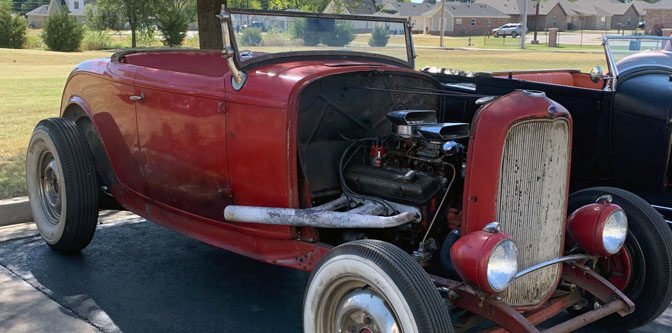 This 7 days has been just one for the books. Someplace in amongst Monday night and Tuesday early morning, I flew from San Francisco to Michigan in preparing for the highway trip of a life span. The system? Get a pack of early Ford hot rods and push to The Collecting at the Roc. 5 states, a few times and a complete great deal of miles. It's all part of a Ridetech project that I'll be sharing far more about afterwards.
On Thursday early morning, I unfolded myself out of Tim Traylor's nailhead-driven Deuce 5-window in Bartlesville, Oklahoma. In just 10 seconds of standing upright, my eyes locked in on a Torch Crimson 1932 Ford roadster. "Woah!" I reported, admiring the weathered paint, chrome steelies and 2×4-fed smallblock. As luck would have it, Dan Olsen, the car's operator, was standing nearby.
It took a minute for it to click, but I don't forget that he told me all about this automobile in Des Moines before this yr. At first sizzling rodded in the late 1950s, the Nebraska-centered roadster was a desire Craigslist uncover.
Acquired as a pile of elements, Dan invested numerous years bringing it again to everyday living. Even though it had a flathead back again in the day, he found out that it sooner or later acquired a smallblock transplant. Now backed by a T5, he drives this auto almost everywhere.
Dan's roadster is one of all those warm rods that just feels proper. It's perfectly imperfect. I like just about all the things about it, but I'm most in enjoy with the candy-striped inside. This auto is a standout.
Looking at it suitable off the bat in Bartlesville solidifies that I am, without the need of a shadow of a doubt, in the proper location. See ya in Oklahoma!
—Joey Ukrop